Remnants of Hurricane Ophelia due to hit NI this week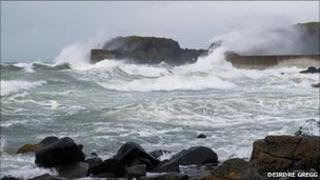 So what do hurricanes and Northern Ireland have in common? More than many might think it turns out.
Last month, the tail end of Hurricane Katia caused damage bringing peak winds of nearly 80mph to Malin Head in Inishowen and Castlederg in County Tyrone.
This week, Ophelia is whipping up a storm, and is due to hit Northern Ireland by the middle of the week.
However in Ophelia's case, the winds are likely to be in the range of 50-60mph.
It may have been downgraded, but forecasters are predicting powerful wind and rain in the north-east of America before it reaches here.
Although Northern Ireland managed to escape relatively lightly with Katia, Ophelia's category of wind can bring widespread damage to trees, dislodge slates from buildings and cause minor structural damage.
Disruption
Ireland's deadliest storm Debbie, which occurred almost 50 years ago, brought hurricane strength winds of 120mph.
She was no longer a hurricane in the true sense, because by definition they are tropical features and their main source of energy is warm oceans.
When they do make it all the way over to this side of the Atlantic, they will have encountered colder waters and lost their tropical characteristics.
However Ophelia is not expected to cause the kind of disruption seen in previous years.
At the end of the summer in 1986, Charley brought widespread gales and flooding across large areas of Ireland and a few years ago ex-hurricane Gordon disrupted the Ryder Cup at the K Club in Kildare.