Rail upgrade priority for Derry City of Culture 2013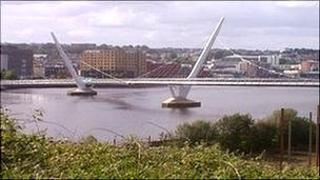 The chairman of Londonderry's City of Culture company wants the executive to prioritise an upgrade to the Derry to Coleraine railway line by 2013.
Maintenance work costing £75m has been delayed until 2014 because of budget pressures.
Martin Bradley said he has written to every assembly member urging them to back an emergency motion.
He warned the city would struggle with the influx of visitors in 2013 when the it becomes UK City of Culture.
"This is a key infrastructural piece for the city and it's not just important for the city that people can come here for 2013, but also we will have approximately one million visitors attending this event here in the city," he said.
"Those visitors will want to go and see the new facility at Giant's Causeway and go and see the new Titanic Quarter, so this is not just about what's best for the north west.
"This is what's best for Northern Ireland."
At the end of last month Translink confirmed that even if the £75m required for the upgrade was available, the work could not be completed in time for 2013.