Extra places at Magee motion defeated at Stormont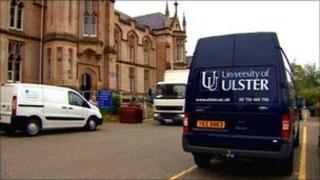 A motion urging the Education Minister to create 1,000 extra places at the University of Ulster's Magee campus in Londonderry has been defeated at the Assembly.
49 MLAs voted against while 27 were in favour.
The expansion of the campus has been described as a potential catalyst for citywide economic renewal.
Employment Minister Stephen Farry has said extra student places secured for next year had to be shared.
Foyle SDLP MLA Colum Eastwood said the proposal for Magee to have a targeted increase by 2013 with the hope of 6000 full time students by 2020 would, in economic terms, have an impact of up to £1bn by 2040 for the regional economy.
"The time for lip-service is over. People demand action from this Executive", he said.
Sinn Fein MLA Raymond McCartney said the extra university places would be an economic driver in Derry.
"If we do not see the extra places in the next number of years, I think it will deal a blow to trying to address years of economic under-investment and regional disparity."
DUP MP for East Londonderry, Gregory Campbell said there was not anybody in the Assembly that is opposed to the development of the Magee campus but the Minister does not have enough money to meet the demand.
"The proposal, as it is currently worded, would appear to offer no such advantage to other campuses. We would all want to support Magee but not at the expenses of the other campuses."
Minister Stephen Farry said he was sympathetic to the case, but he could not commit to extra places within the context of the current spending review.
"Should the Executive make additional resources available to my department then the issue of increased student numbers can be re-examined alongside the case for additional resources in terms of all higher education providers.
"I would have no hesitation, if the evidence is there, of going back and making that case to the Executive.
"Sympathetic as I am to the motion and the motives behind it, unfortunately I am not in a position support it, but I hope the issue can be re-examined in the future", he said.