Publicans welcome landmark European ruling over Premier League rights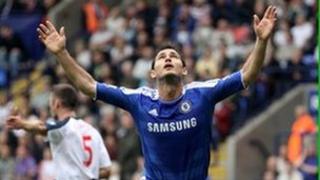 It is a ritual practiced by football fans across the UK - watching the latest Premier League game in their local pub.
But for many supporters in Northern Ireland finding a place to enjoy those all important matches has become an increasingly difficult task.
Dozens of bars have been forced to withdraw the service because of the expensive tariffs set by providers like Sky Sports and ESPN.
However, that could be about to change thanks to a landmark ruling by the European Court of Justice on Tuesday.
The court ruled in favour of Portsmouth pub landlady Karen Murphy in her appeal over being prosecuted for using a Greek satellite decoder to show live matches on Saturday afternoons.
The decision could trigger a major shake-up for the Premier League and its current exclusive agreements with some providers, and pave the way to cheaper viewing of foreign broadcasts for fans of top-flight English games.
'Not justified'
"We're very happy about this," said Stephen Magorrian, managing director of the Botanic Inns Group in Belfast.
"The price they (Sky) charge is exceptionally high. We've had to withdraw it in some of our bars, and it means taking away a service from our regulars.
"For instance we would pay more than £1,000 a month for matches in some of our pubs. The Greek service would charge that per year."
The European Court of Justice ruling said the Premier League could not claim copyright over its matches as they could not be considered to be an author's own "intellectual creation" and, therefore, to be "works" for the purposes of EU copyright law.
The ECJ findings will now go to the High Court in London for a final ruling.
Although the legal argument may sound confusing, landlord Steven Reynolds said the end result was quite simply "great news" for the pub trade.
"We pay a levy based of the square foot of the premises, so Sky was costing me £500 a month," said Mr Reynolds, who runs the Front Page Bar in Ballymena.
"We were very aware of the other options including Sky Italia and the Greek facility, but up until now we hadn't gone down that road. That's why we were following this case closely.
"I believe many pubs will look into this now. It is not going to solve all of the problems we have, but it certainly gives us another string to our bow."
Legal experts have warned that the Premier League will find a way to get round the new situation and is determined not to suffer a loss to its TV income.
But for the moment it is Publicans: 1 Premier League: 0.