Ranger Aaron McCormick: Mother wants bravery recognised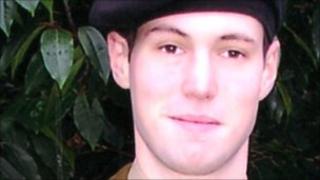 The mother of a County Londonderry soldier killed on duty in Afghanistan last year has said she will fight to have his sacrifice recognised.
Ranger Aaron McCormick was trying to defuse an improvised explosive device in the Helmand area when it exploded.
The 22-year-old's name was not on a list of 140 soldiers honoured by the Ministry of Defence for their bravery.
His mother Margaret said she could not understand why her son's courage had not been recognised.
"When a 22-year-old walks down a road knowing he's going to face a bomb and lies down on his stomach to deal with that bomb is that not bravery?" she asked.
"How much braver do these boys have to be for the Army to recognise them?"
The Macosquin woman accused the Army of putting the Royal Irish Regiment, of which Ranger McCormick was a member, at "the bottom of the list" in terms of recognition.
The regiment lost two other members in its last tour in Afghanistan - Ranger David Dalzell from Bangor and Lance Corporal Stephen McKee from Banbridge. Neither of them were on the 140-name list.
"It's not just my son, it's the other two as well," Mrs McCormick said. "How much more does the Army want from these young boys?"
She said after her son was killed, a 19-year-old colleague grabbed the mine detector and used it while he crawled over to check on his fatally-injured friend.
"For him to have the bravery to do that after what he had just witnessed done to my son," Mrs McCormick said, yet "he wasn't even recognised".
She said she would not let the matter rest should she have to contact every newspaper in the UK.
"Our boys didn't go out there to give their lives just to be ignored."
'Open and transparent'
Ulster Unionist councillor Bob Stoker, whose son Michael suffered severe burns when his patrol was ambushed in Afghanistan in May 2009, said the lack of recognition of soldiers' gallantry was not isolated to the Royal Irish Regiment.
He said the whole system needed to be more open and transparent.
"One of the failings of the system is you can have two people in exactly the same incident and one of them is awarded a medal and the other isn't," he said.
In a statement the MoD said: "Commanders in the field initiate recommendations for awards.
"These are then screened at various levels in the chain of command and passed to the Ministry of Defence, where a committee, comprising senior officers with operational experience, decides the appropriate awards.
"Unlike those of some other nations, the British Honours system does not recognise individuals for being killed or injured in action.
"No national honours system can claim to be perfect but it should not be forgotten that the British system is regarded highly throughout the world.
"As his commanding officer said at the time, Ranger Aaron McCormick was a son, brother and companion of whom his family and friends can feel intensely proud. His regiment will always remember his sacrifice."