UVF supergrass case: court shown Robert Stewart/police chat video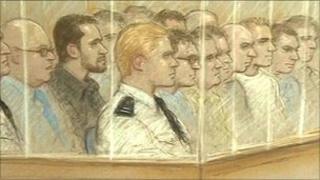 Belfast's UVF "supergrass" trial has been shown a video of a conversation between a police officer and key witness Robert Stewart in 2008.
A defence barrister suggested the police advised Stewart how he might deal with difficult questions in court.
Stewart is testifying against 14 men, nine of whom are accused of the murder of senior UDA member Tommy English.
In the video Stewart said he was concerned that drink and drugs meant his memory was not the best.
He said he was worried that a defence barrister would "rip him to shreds in court".
The officer sought to reassure him and took him through what he had already said.
In the video the officer said: "You're here to tell us the truth as you remember it. That's good enough for us."
Mr Harvey said the police officer was prepping Stewart for a trial: "Don't be worried about your memory, don't be worried about your story, don't be worried about the defence. Here's the story - stick to it."
However, Robert Stewart told the court he saw it quite differently.
He said he had been in the flat for a month, he had a touch of cabin fever, and needed reassurance.
The officer, he said, was simply giving him a timely reminder to tell the truth.
Stewart insisted he has only ever tried his best to be truthful.
The 14 defendants are being represented by 24 barristers and eight firms of solicitors and the trial is expected to last for 11 weeks.
Nine of those on trial are accused of the murder of Mr English, a senior member of the loyalist group the UDA who was shot dead in front of his family in October 2000 during a feud between that organisation and the UVF .
Both the UVF (Ulster Volunteer Force) and UDA (Ulster Defence Association) are loyalist paramilitary groups responsible for the murder of hundreds of people during the Troubles.
The term supergrass was first used in Northern Ireland in the 1980s when a number of terrorist suspects were convicted on the evidence of fellow paramilitaries.