Details of Finucane murder investigation released 'soon': Paterson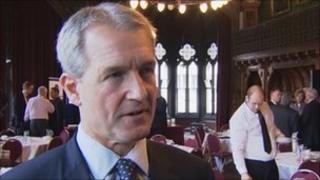 The Secretary of State Owen Paterson said he hopes the family of Pat Finucane will be satisfied when the government reveals how it intends to deal with his murder.
The government is expected to reveal next week whether an inquiry is to be held and under what terms.
The Catholic solicitor was murdered by loyalists in north Belfast in 1989.
His widow Geraldine has criticised the length of time it has taken to hold an inquiry.
There have also been concerns over what evidence will be made available to an inquiry and what can be heard in public.
Mr Paterson said he has had constructive discussions with the family and had met them on a number of occasions.
He said the government would make an announcement "soon" and added: "This has taken longer than I thought."
He described it as a "complex and difficult issue".
The secretary of state also told the BBC that Mr Finucane's widow had made it clear to him that she wanted to know what had happened over 20 years ago.
He said: "I may be wrong. I did not get the impression she was too hung up on the nature of how we get there."