Gerard Connors admits Seamus Fox murder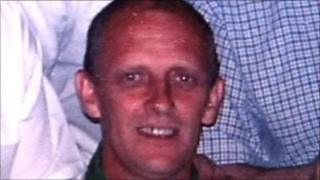 A west Belfast teenager has admitted murdering 58-year-old Seamus Fox, who was beaten to death last year.
Gerard Connors, 19, from Glenveagh Drive, was due to stand trial at Belfast Crown Court for the murder.
However, before the trial opened his lawyer Brian McCartney QC said Connors "has chosen to make it as easy as possible" for the Fox family.
With his solicitor standing beside him in the dock, Connors pleaded guilty to the April 2010 murder.
The judge, Mr Justice Hart, told him: "The law only allows one sentence to be imposed in relation to the crime of murder and I sentence you accordingly to life imprisonment."
Father-of-eight Mr Fox was found with serious head injuries on waste ground close to Woodbourne PSNI station as he walked to his Horn Road home after playing darts in the Donegal Celtic Football Club.
The grandfather died despite medical efforts to save his life.
On Wednesday, defence QC Mr McCartney said he was instructed on behalf of Connors and his family "to apologise openly for the very tragic outcome of this matter for the family of the deceased and to offer on behalf of that family, their heartfelt condolences for the loss of Seamus".
The judge adjourned fixing the minimum tariff Connors must serve before being considered for release on licence until November when pre-sentence probation reports and victim impact statements have been lodged with the court.
"If the accused wishes to see any of his family before he is removed I'm sure the prison authorities will deal with that sympathetically," said Mr Justice Hart.