MP Jeffrey Donaldson backs Aaron McCormick honour campaign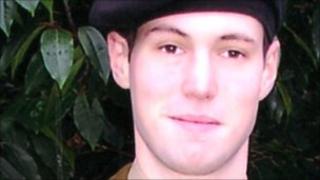 MP Jeffrey Donaldson has said he supports a campaign by the mother of a Royal Irish Regiment soldier killed in Afghanistan to have him honoured.
Ranger Aaron McCormick was trying to defuse an improvised explosive device in the Helmand area when it exploded.
The 22-year-old's name was not on a list of 140 soldiers honoured by the Ministry of Defence for their bravery.
Mr Donaldson said he was surprised only 10 Royal Irish Regiment soldiers were on the list.
The Lagan Valley MP, who is a member of the Commons Defence Select Committee, said that group had been briefed by an American general when they visited Afghanistan.
"He said the Royal Irish - and he singled them out for praise - were the most effective frontline infantry unit on deployment at that time in Helmand Province.
"I think when you have someone as senior as that commending the work of the Royal Irish, then perhaps it is surprising that there weren't more of them mentioned in the honours list."
He said the Ministry of Defence needed to look again at how they decided on awards.
"I think there is a case to be made that when a soldier or another serviceman or woman is killed on active service, surely that in itself is worthy of recognition.
"I think that is something the MoD needs to reflect on," he said.
"When you read the tributes that were paid to Ranger McCormick - and indeed to other soldiers serving with the Royal Irish Regiment who died in Afghanistan in the recent operations - you begin to understand that indeed these soldiers were very courageous."
In a statement issued on Tuesday, the MoD said: "Unlike those of some other nations, the British honours system does not recognise individuals for being killed or injured in action.
"No national honours system can claim to be perfect but it should not be forgotten that the British system is regarded highly throughout the world."