£139m training college at Desertcreat approved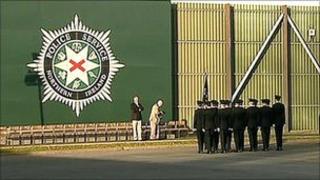 Approval has been secured to build a £139m joint public services college at Desertcreat, just outside Cookstown.
The 250-acre site is to become operational in 2015.
The Department of Finance and Personnel approved the business case at the end of last week. It will be used to train police, prison officers and firefighters.
Deputy Chief Constable Judith Gillespie said the gardai and FBI had also expressed interest in the facility.
"It will bring new people into Northern Ireland and new trade into the Northern Ireland economy. I believe it will be a world leading facility," she added.
A full planning application will be lodged within six months and a tendering process launched.
Work is due to start on the green field site in 2013.
The project was first announced in 2004 and was originally due to be finished in 2008. The cost envisaged at the time was £80m.
Justice Minister David Ford said: "This is an important milestone for everyone associated with the Desertcreat project and one which brings closer the building of an integrated public services training college with world class facilities.
"Our police officers, prison officers and firefighters put their lives on the line for people across Northern Ireland day and daily and they deserve training facilities of the highest quality.
"Desertcreat will deliver this."
Public Safety Minister Edwin Poots said: "This is excellent news and means we can now seek full planning permission and move another step closer to having state of the art, integrated training facilities for our emergency service personnel.
"By integrating and sharing facilities, it is hoped that Desertcreat College will develop best practice in training, technology, sustainability and ecology, so that the college will become recognised as a world class partnership training environment."
MP for the area Martin McGuinness said it would bring "huge economic benefits" for the Cookstown area.
"It is also important that, given where the site is located, that this is an opportunity to further develop the new relationship between the PSNI and the local community," he said.