Peter Robinson accuses Alex Attwood of 'playing games'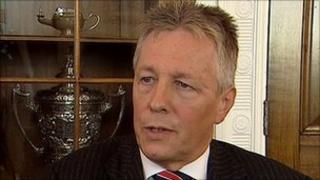 First Minister Peter Robinson has accused Environment Minister Alex Attwood of playing "leadership games".
It follows Mr Attwood's claim he was not consulted about an agreement to cut the number of councils in Northern Ireland.
Mr Attwood told the assembly he had yet to see a written deal which he believes has been drawn up by Sinn Fein and the DUP.
However, Mr Robinson said: "I wish he really would pay more attention."
He added: "Of course the acting deputy first minister and I brought him in and talked to him about this proposal before we mentioned anything at an executive meeting.
"Maybe he was sleeping at that as well. He knows what the proposals are and he should stop trying to play leadership games with matters which affect the people of Northern Ireland."
Mr Attwood is one of four people in the race to become the next SDLP leader.
He told the BBC the council shake-up was "a once in a lifetime opportunity" and the parties should step back to consider what might be the best way forward.
The minister said that given the latest proposals for reshaping the Westminster constituencies and progress made by the existing councils in sharing services, a 15-council model might be a better outcome than the 11-council compromise reached by the two big parties.
However the first minister said: "The SDLP during the election and at other times chided Sinn Fein and the DUP for not reaching agreement on these matters.
"They suggested we come forward with the proposals and reach agreement on RPA (Reform of Public Administration).
"Then as soon as we do they say 'no we don't like that.' That's just not acceptable.
They knew what the proposals were, they will go forward - lets be very clear about that - they will go forward and for Alex Attwood trying to suggest that we start back looking again at the numbers suggests just how out of touch he really is."