Derry bomb accused 'watched by police for 20 minutes'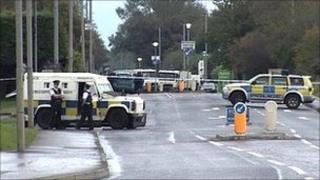 Three men stopped in a car with a bomb in Londonderry had been monitored by police for 20 minutes, the High Court has heard.
The surveillance was disclosed as prosecutors disputed one suspect's claim that he found the device on a road and was taking it to a priest.
A judge was also told the incident last week is being linked to dissident republicans.
Bail was refused to the driver of the car which contained a blast bomb.
It was intercepted on the Buncrana Road on 26 September.
Eugene McLoone, of Abercorn Road in the city, and his two co-accused are all charged with possessing explosives with intent to endanger life.
The court heard the improvised blast bomb was found under one of the seats wrapped in a tracksuit top.
Mr McLoone told police he had no knowledge of it and said he had stopped to give a lift to co-accused Eamon Cassidy, who asked to be taken to a local parochial house.
Mr Cassidy, 49, of Glenfada Park, Derry, alleged that he found the device lying on the road and did not want children to play with it, according to the prosecution.
'Completely fictitious'
He stated that the other two men "hadn't a clue" what he had, the court was told.
But a prosecution barrister said: "The evidence of the police, however, is that the accounts provided by all three accused are completely fictitious.
"They have evidence that all three were in the car 20 minutes prior to arrest and subsequently travelled on routes that differ from those stated by all of them in interview.
"This is evidence from police officers who were watching the vehicle."
Opposing bail, she said CCTV footage was still to be obtained as part of the inquiry.
The barrister added: "This is believed to be a dissident incident."
Kieran Mallon, defending, claimed it was outrageous to suggest his client could interfere with witnesses or the investigation.
He said Mr McLoone had made a complete denial when cautioned.
Mr Mallon also stressed: "He has demonstrated characteristics that are entirely inconsistent with involvement in dissident republican activity."
The court was told that an unnamed Derry businessman was prepared to put up a £5,000 cash surety on behalf of Mr McLoone.
However, Mr Justice Hart refused bail based on the risk of further offending.