Casualties mount among Painkiller cast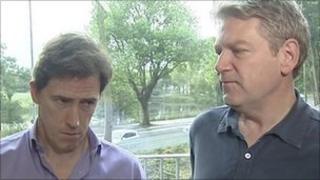 Two members of the cast of The Painkiller showing at Belfast's Lyric Theatre have been injured and one has been replaced in the play.
The Painkiller, which involves frequent slapstick action, stars Kenneth Branagh and Rob Brydon.
Neither Branagh nor Brydon have suffered injuries, despite much physical comedy in their roles.
Out of the cast of six, two have been injured.
One, Andy Moore, injured his fingers in a fight rehearsal and has had to withdraw from the play.
His part has been taken by Ben Sleep who has now had to pull out of the role he was rehearsing in the next Lyric production.
Stuart Graham, who had a major role in the award-winning film Hunger, has suffered injuries but is still playing his role as a love cheat psychiatrist.