Topping Meats' abattoir plan for Larne is quashed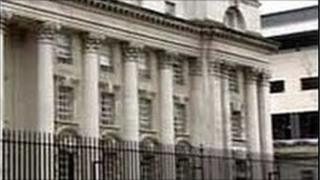 A High Court judge has quashed a decision to give the go-ahead for an abattoir to operate beside two drugs manufacturing sites in Larne.
Mr Justice Treacy overturned the granting of planning permission to Topping Meats because a requirement to notify neighbours was not met.
He also identified a failure by Planning Service to take into account the type of operations run by the pharmaceutical firms.
The sites are in the Millbrook area.
Reaching his verdict, the judge said that allowing the planning permission to remain in place could have "very serious consequences, amongst other things, for the manufacturing of human medicine and blood products".
Pharmaceutical giant Warner Chilcott UK and CaridianBCT, a global leader in blood component technology, brought judicial review proceedings after Topping Meats was granted permission in January 2010 for an abattoir at its boning plant.
Lawyers for the Department of the Environment conceded that the decision should be quashed due to the failure to inform neighbouring premises - a requirement under Planning Policy Statement One (PPS1).
It was also accepted that officials were not precisely aware of what was being manufactured close to the proposed slaughtering facility.
Topping Meats' legal representatives had urged the court not to prevent planning permission, due to the delay in bringing a legal challenge.
They also contended that the family-run business had suffered prejudice after spending nearly £1.5m on plans for an abattoir which would ensure greater food control and quality.
However, Mr Justice Treacy ruled that he "was satisfied that the simple but non-statutory policy did create a legitimate expectation that the Planning Service would take all reasonable steps to inform the applicants".
"They did not take all reasonable steps and in the circumstances I am satisfied that the decision is liable to be quashed on that ground," he said.
He added that the case had "made manifest" the consequences of non-compliance with PPS1.
The court was also told that Warner Chilcott has given an undertaking to pay Topping Meats any loss or damages which are established to have been caused by the delay in bringing a judicial review.