Smithwick Tribunal: British agent was 'intelligence nuisance'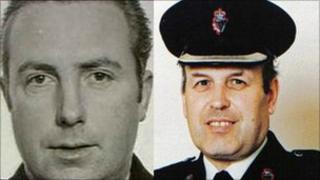 A British army agent working in the IRA gave good intelligence which saved people's lives, but then became more trouble than he was worth, the Smithwick Tribunal has heard.
A retired RUC Detective Inspector, witness 60, said he had refused to authorise Kevin Fulton as a source.
He said he became "an intelligence nuisance".
The tribunal is investigating claims there was Garda collusion in the 1989 murders of two senior RUC officers.
Kevin Fulton, who is also known as Peter Keeley, claims he was involved in the IRA and was recruited by intelligence services as an agent.
Mr Fulton has alleged that there was Garda collusion in the murders of RUC officers Chief Supt Harry Breen and Supt Bob Buchanan in an IRA ambush in March 1989.
A former chief inspector of Special Branch, witness 61, also gave evidence regarding Kevin Fulton.
He said he was useful initially in relation to IRA activities, but his services were later dispensed with.
The tribunal heard that when Special Branch was finished with him he was picked up by the CID (criminal investigation department) in 1996 and he acted as an agent for them for several years after that.
The former chief inspector was also asked about a reported increase in radio traffic signals around lunchtime on the day of the murders of Mr Breen and Mr Buchanan.
He said he did not recall ever hearing about an increase in the radio noises, which were known to be used by the IRA in the south Armagh area.
'Target'
The tribunal heard evidence previously that the signals, described as technical noises rather than conversations, indicated that subversives were communicating with each other before the murders.
Former RUC Chief Inspector Harmon Nesbitt described how he travelled frequently around the border area as operations inspector for the Newry sub-division.
He said he always felt someone was watching and threat levels went up and down all the time.
The court heard that initially escorts would be provided to the border, but it became "unwieldy", so the practice was relaxed.
Mr Nesbitt described how the road on which Harry Breen and Bob Buchanan were ambushed, had been declared "out of bounds" for a time that morning, and that both officers would have known that.
He also said a photograph of Mr Breen published following the seizure of IRA weapons in Loughgall in 1987 would have made him a high-profile target.
He said: "I'd say they (the subversives) needed some revenge after that...he would have been a high profile target and a coup if they got him and they did."
Earlier, the tribunal judge Peter Smithwick refused a request from Freddie Scappaticci's legal team for extended representation.
Mr Scappaticci has already been granted limited representation for anytime his name or the name Stakeknife is mentioned.
Stakeknife was a high level British Army agent within the IRA - Mr Scappaticci has always denied he was that agent.
However, the judge refused to allow him representation each time the alleged British army agents known as Peter Keeley alias Kevin Fulton, and Martin Ingram alias Ian Hurst, were to be mentioned.