Battery-powered cars are driving force in road safety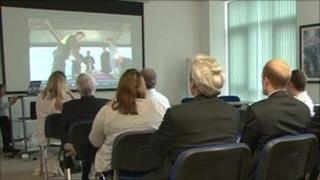 A charity which aims to involve young people in road safety by building their own battery-powered motor cars has launched the scheme in Northern Ireland.
The Green Power Education Trust encourages pupils to build their own eco-friendly "kit racing cars".
The scheme been running in the rest of the UK for more than 10 years but now those behind the idea want to bring it here.
The event began with schools from the Ards Peninsula being shown a promotional DVD by a representative from the charity.
Five hundred schools in England, Scotland and Wales have built and raced the single-seat electric mini-racing cars which run on batteries.
Jeffrey Bateman from the Community Policing Partnership in Greyabbey is helping to introduce the scheme here.
"I thought this is a safe way of getting them into driving and also there is the engineering aspect of it," he said.
"And obviously, if they can get into engineering at an early age and get enjoyment from it, it will help them in their later years getting a job and into university and it will make them more employable."
'Oil addiction'
Green Party MLA Stephen Agnew said people needed to "get off our oil addiction".
"And here is a great way to do it," he said.
"I think a lot of people still think of electric cars as going about 10 miles a hour and that is not the case anymore.
"An electric vehicle can run as fast as any oil-powered vehicle and once the kids are involved, you'll bring the parents in too."
It can cost between £600 and £1,000 to build one of the vehicles.
Michael Breen, principal of St Columbus College in Portaferry, warned that it would be difficult to get the scheme off the ground without sponsorship.
"Schools are stretched at the minute with regard to finance and so on," he said.
"So what would be welcome would be some level of financial support, sponsorship of some kind, and also support with regard to putting the whole car together.
"Certainly with that degree of cooperation, there will be that level of success, but we are still very much in our infancy."