Mental health campaign launched in Northern Ireland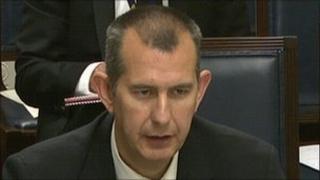 The Public Health Agency (PHA) will launch a campaign on Thursday which aims to raise awareness of the early warning signs of mental health problems.
The campaign, called 'Under the surface', will run until 20 November.
Health Minister Edwin Poots said early intervention was a "vital first step".
"With 313 deaths by suicide recorded in 2010, suicide prevention and mental health promotion remain at the very top of my priorities," he said.
Mr Poots said that "too often people are reluctant to seek help because there is still a degree of stigma attached to mental illness".
"We must eradicate this stigma and ensure that people regard mental health in the same way as physical health," he said.
Mary Black of the PHA said the agency had "a leading role in promoting mental health and wellbeing and reducing suicide".
"The campaign message of 'Under the surface' is if you feel that your problems are getting on top of you, you can do something about it, like talking to a friend, family member or someone you trust," she added.