Higgins, Gallagher and McGuinness top presidential poll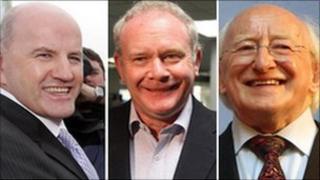 Support for independent presidential candidate Sean Gallagher has soared to 20%, according to an Irish Times opinion poll.
The surprise results, published on Thursday, show the entrepreneur is just three points behind poll-topper Michael D Higgins of Labour.
Sinn Fein's Martin McGuinness is in third place with 19%.
Former Special Olympics boss Mary Davis is next with 12%, followed by Senator David Norris on 11%.
Fine Gael's Gay Mitchell has the support of 9% of those surveyed. Dana Rosemary Scallon is in last place with 6%.
The results show the popularity of two candidates has plummeted since the last survey.
Former opinion poll favourite Mr Norris dropped 14 points.
Mr Mitchell, who is a member of the governing Fine Gael party, was down 12%. He admitted he was "disappointed" by his performance.
"The message I have taken from them is that we have a lot of hard work to do to get our message about the presidency across to the Irish people," he told RTE.
Battle
There was good news for Mr Gallagher who jumped by seven points, however he said he would not be commenting on the result.
With three weeks to go before the polls open on 27 October, the figures indicate he now has a chance of winning the presidency.
If the poll numbers remain unchanged, the election will come down to a battle between Mr Gallagher, Mr Higgins and Mr McGuinness.
The Republic's voting system is based on proportional representation, so the end result is likely to be decided by transfer votes.
Mr Higgins does best when it comes to attracting voters' second preferences, followed by Mr Gallagher, while Mr McGuinness does the worst, according to the Irish Times.
The Sinn Fein candidate has the support of 70% of his party's voters. His strongest performances are amongst young people and the working class. He is weakest among middle class and older voters.
Mr McGuinness said he was sceptical about the results.
"Whether or not that reflects the true figures remains to be seen. According to the poll anyway I'm performing very strongly and that's quite pleasing, but as I say the only poll that really counts is the 27 (October)," he added.
Ms Davis said she was happy to be registering a consistent support in the polls, while a spokesperson for Mr Higgins said he was "pleased".
Ms Scallon said she was not paying attention to the poll results.