Gavin Andrews' Rugby World Cup blog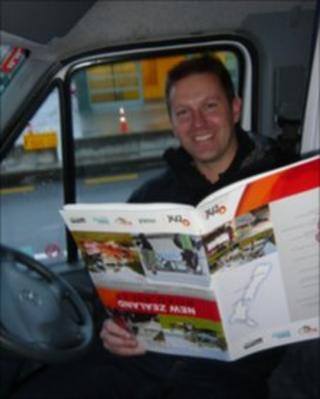 Someone at the airport told us it was a ten hour drive to Wellington where the Ireland team is based.
Scoffing we looked at the map and reckoned eight would take us the 650 kilometres though the heart of the North Island. We were wrong.
The van looked the part but was getting a little long in the tooth. Over 185,000 miles on the clock and a few horses had been lost along the way.
The challenging roads were more than a match for the beast. It is a bad job when you are overtaken by a juggernaut on a mountain pass. Just 15mph, second gear and a lot of blue smoke summed up the two-day ordeal that the journey became.
We were told the scenery would be a lot like Ireland and it proved to be the case. We had to film a quick blast for BBC Newsline so we thought we would wait until we saw something you wouldn't see at home.
Five hours and five thousand Fresians later we found a waterfall - Huka Falls - just off the beaten track. It was spectacular but unfortunately the sat nav couldn't get us back on to the main round, so we took a two hour trip around a lake in the pitch dark.
It quickly became apparent that we wouldn't make Wellington on the first day. Riverside Lodge 200km outside the capital city came to our rescue - we drove down to the car park and bedded down for the night.
Unfortunately due to lack of organisation and light we couldn't find the power cable for the van so we had to live without heating.
The next problem was that between the two of us there was one duvet. We took it in shifts. Two hours with the duvet followed by two with a towel and a sheet. It was Baltic - I haven't slept with my shoes on in a very long time.
Due to the performance issues with the van, we had to leave at 'early o'clock' to get to Wellington in time for the Ireland team training - so no shower, no change of clothes, we were ready for anything.
We kept the windows in the van open the whole way.