Dublin property firm puts Aras an Uachtarain up for rent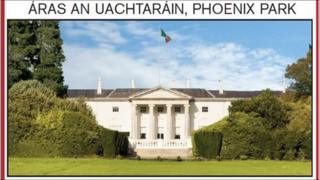 Fancy living somewhere with its own zoo, flag poles and helipad? What about a place that has sprawling gardens, exceptional reception rooms and plenty of space for overseas guest?
Well, according to an ad in Thursday's Irish Times, all this could be yours. There is just one small catch - you have to be the next President of Ireland.
Property firm Lisney have advertised for a new tenant for Aras an Uachtarain. Its current resident is due to move out soon, so they are keen to find a replacement by the end of the month.
So far seven people have expressed interest in the historic property. It is available for a guided viewing from 10:15 to 15:30 on Saturday.
Lisney's Managing Director James Nugent said it would then be up to Irish people to decided who gets the coveted seven-year lease.
"We've had a good bit of interest this morning. But it is up for the public to decide this one," he said.
Of course, the ad, which appeared in the Irish Times' property section, is a spoof.
Aras an Uachtarian is not up for rent, and none of the seven presidential election candidates have been in touch with the company.
However, several members of the public have contacted the firm to say the fake schedule had brought a smile to their faces.
"People understand it is tongue and cheek. The property business is very serious so it was nice to put in something a little bit light," added Mr Nugent.
"Our marketing team came up with the idea. We wanted to do something a little bit different."
For the six candidates who don't make it to the Aras, there are plenty of other genuine options in the property pages.