Hunt for Hidden star Phil Glenister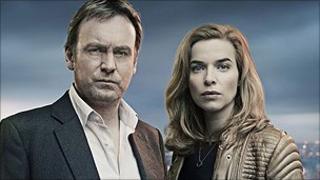 It may not quite be Hollywood, California, yet, but Belfast, County Antrim, is already well on the way to becoming an established base for actors and film-makers.
The latest star to grace the city's streets and surrounding countryside is Phil Glenister, perhaps best known for his tough-guy detective role in Life on Mars and Ashes to Ashes.
Glenister and film star Thekla Reuten lead the cast in Hidden, a taut and gripping four-part BBC One conspiracy thriller.
The series is set in London but was filmed on location in Belfast, County Down, London and Paris.
Written and created by Ronan Bennett in collaboration with Walter Bernstein, the plot revolves around the efforts of Harry Venn (Phil Glenister), a small-time solicitor who is forced to delve into his murky past.
When a mysterious lawyer Gina Hawkes (Thekla Reuten) turns up asking Harry to find a missing alibi witness for her client, he agrees to take on the job but is unwittingly drawn into investigating the death of his brother 20 years ago.
Harry quickly finds himself caught up in a much bigger and more complex conspiracy.
Asked about his part, Phil Glenister said: "Well, it's not posh. That's for sure. He's kind of your average high street solicitor, really. That's his job.
"But he's got a bit of a chequered past which comes back to haunt him."
Glenister said he loved working in Belfast.
"It's my first time being here. Everyone's been very welcoming," he said.
"The great thing about (filming in) Belfast is that they close the roads off for you. That doesn't happen in London.
"They want about 200 quid a second in London, but here, they are very generous and helped out out enormously.
"That's why there's so much work coming this way."
Armagh-born Richard Dormer plays Frank Hanna, a friend of Glenister's character, Harry.
"I'm a bit of a rough diamond, but a dodgy fella, but a good guy."
Richard said the story-line was open-ended leaving the possibility of a follow-up.
"It all depends on how it does," he said.
"I think it's brilliant that we are attracting so many films and TV productions and long may it continue. It's great for the industry."
Hidden BBC One, 9pm Thursday