File saying Garda officer helped IRA shown to tribunal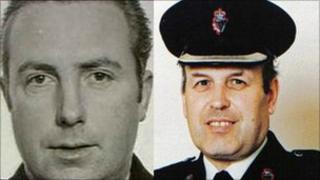 A summary of an RUC intelligence document suggesting an Irish police sergeant was "helping out" the IRA has been shown to the Smithwick Tribunal.
The tribunal is investigating claims there was Garda collusion in the 1989 murders of two senior RUC officers.
Giving evidence on Thursday morning, a former assistant chief constable of RUC special branch, said he could not recall seeing the report.
However, he said it should have been passed on to the Garda.
The summary of the intelligence report from 1985 stated that a source had said Dundalk Garda Sergeant Owen Corrigan was helping out the Provisional IRA, by keeping them well-informed and letting them know what the security forces were doing in Northern Ireland when he could.
Witness 24 was the superintendent overseeing three Special Branch intelligence desks at the time.
Giving evidence from behind a screen, he said he did not recall ever seeing the intelligence report, nor was there a Special Branch file on Mr Corrigan, but he said he had a "gut feeling" that he was not to be trusted.
Mr Corrigan denies all allegations of collusion.
Legal counsel for the Garda cast doubts on the accuracy of the summary document.
The tribunal also heard how intelligence reports were passed between the military and the RUC.
Witness 24 said he would like to think that all intelligence was passed on to the RUC, but it was possible that the Army may not have passed everything so as to protect sources.
RUC officers Chief Supt Harry Breen and Supt Bob Buchanan were shot dead in an IRA ambush in south Armagh in March 1989.
They had left a meeting at Dundalk Garda station a short time before they were murdered.