Nama takes over loans of NI property firm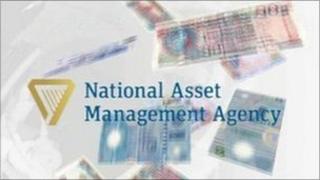 A Lurgan property development firm is the latest NI company to confirm its loans have been moved into the Irish government's National Asset Management Agency (Nama).
The details are in the most recent accounts of Mulgrew Properties, which is facing a winding-up application.
The accounts for 2010 show that liabilities exceed assets by £425,000.
Nama has taken control of virtually all land and development loans advanced by the Dublin-based banks.
A note in the accounts states that the firm had "invested heavily" in development land in recent years and that the downturn in the property market has resulted in the company being unable to develop its sites.
The note adds that this had left the company "completely reliant" on the support of its bank to continue operating.
Documents filed at Companies House show that the firm registered a series of Anglo Irish Bank mortgages between 2001 and 2007. Outstanding liabilities are more than £5m.
Nama has taken control of over £3.5bn of property loans in Northern Ireland.