Toomebridge cannabis accused 'punched mother in face'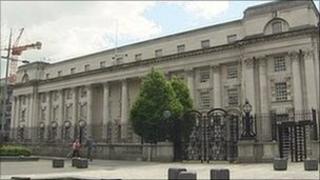 A County Antrim man allegedly punched his mother in the face and then tried to hide a bedroom cannabis plant from police, the High Court heard on Thursday.
Stephen McAleese, 21, from McCorley Road in Toombridge, was seen stuffing leaves into his pocket by PSNI officers, it was claimed.
He faces charges of assault occasioning actual bodily harm, possession of a Class B drug, and assaulting and obstructing police.
He was refused bail.
The court was told police were called by Mr McAleese's mother early on Sunday morning.
She was holding a bloodstained tissue against her bruised nose, according to the prosecution.
It was alleged that her son insisted the officers leave the premises before he headed back upstairs.
Nicola Auret, prosecuting, said: "He was seen entering a bedroom and grabbing a cannabis plant on the top of a chest of drawers.
"He was observed pulling leaves off the plant and putting them in his pocket."
'Outrageous'
McAleese allegedly became aggressive during his arrest, pushing and struggling with an officer.
Ms Auret added that his mother stated that he had punched her on the face, but has now withdrawn her complaint.
A defence barrister accepted the behaviour alleged by the prosecution was "outrageous", adding that anyone who strikes their mother "deserves all that comes their way".
But he argued that the case would be hard to prove without a formal complaint by the alleged victim.
Refusing bail, Mr Justice Hart ruled that there was a prima facie case against McAleese, and said that hearsay evidence could be used in the case.