Belfast bomb: Bradbury Place device 'there for days'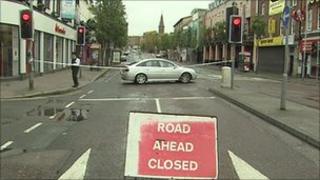 A bomb found in one of the busiest areas of Belfast city centre could have been there for days, police have said.
The device was discovered at Bradbury Place last Friday night and made safe by the Army on Saturday morning.
On Thursday, Assistant Chief Constable Drew Harris told the Policing Board: "It may have been there for some time but initially I am not sure that that is the case.
"You may be talking a matter of days as opposed to weeks or months."
The bomb was found on a patch of ground close to the Sandy Row/Lisburn Road junction. It caused major disruption in the area.
Police said it was "capable of causing death or serious injury".
Bradbury Place has a number of well-known bars, shops and restaurants and is a popular centre for nightlife.
A controlled explosion was carried out on the device and it is currently being forensically examined.
"The particularities of the device do not give us any clues of its origin," Mr Harris added.
SDLP Policing Board member Conall McDevitt said the fact the bomb could have been in the area for some time was very concerning.
"The bomb was left in the middle of the Golden Mile where Belfast comes out to party," he said.
"That it could have been there for an extended period of time will be worrying to everyone who socialises there and owners of businesses there.
"I hope they (police) take urgent steps to improve the intelligence-gathering so that that situation never occurs again."