Clinton to address economic forum in Dublin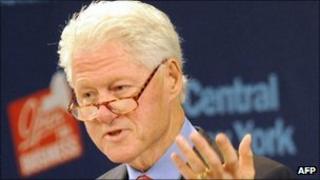 Former US president Bill Clinton will be among business leaders and academics meeting for the second 'Global Irish Economic Forum' that gets under way in Dublin later.
The forum is an Irish government initiative to engage with the Irish diaspora in developing Ireland's global business and trade relations.
Delegates at the two-day summit will debate a range of topics.
These include Ireland's image abroad and the best routes to job creation.
Bill Clinton will address the meeting on the topic "Ireland and the Global Irish in the 21st Century".
Figures from various cultural and sporting backgrounds are also on the guest list, including the manager of U2, Paul McGuinness, film maker Neil Jordan and GAA president Christy Cooney.
The programme will see the unveiling of WorldIrish.com, an online community for Irish people across the world.
Among the proposals to come out of the 2009 Forum was the Certificate of Irish Heritage, an official confirmation of Irish ancestry available to those who do not qualify for full citizenship.