BBC Northern Ireland set to lose 50 to 70 jobs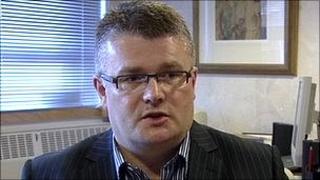 BBC Northern Ireland is to close between 50 and 70 posts as part of a £7m cost-cutting drive.
It is part of a wider BBC initiative which will see 2,000 jobs going across the corporation.
The director of BBC Northern Ireland, Peter Johnston, said the next few years would be "challenging".
"For BBC Northern Ireland across all that we do, it's about a 15% saving," he said.
"Only a relatively small proportion of that in our plan is made in cuts to output.
"We've had the experience of the last five-year period, where we achieved a 25% saving and at the end of that period this year, our audience figures are as high as they've ever been across radio, television and news.
"So it can be done, but obviously a 15% saving off the back of a 25% saving over five years is challenging and I recognise that."