Army homecoming parade bomb alert over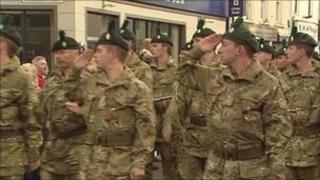 A bomb alert near where a military homecoming parade is taking place in south Belfast has been declared a hoax.
The Kings Hall parade is being held to honour troops who have returned from Afghanistan.
A number of roads closed due to the alert in the grounds of a bar on the Lisburn Road are open again.
Army bomb experts dealt with a suspicious package and declared it an elaborate hoax.
Hundreds of soldiers from the Irish Guards and Royal Irish Regiment will parade in front of an invited audience during the event.
At the last homecoming parade in Belfast in 2008, police in riot gear kept opposing crowds apart.
The policing bill came to almost £500,000.
The Ministry of Defence turned down an initial offer from Belfast City Council for a parade through the city.
Offer declined
The council's decision in April to approve the homecoming parade was opposed by both the SDLP and Sinn Fein.
But the offer was not accepted, with the MoD citing "post-operational duties".
Up to 3,500 members of the public are expected to attend the review and service.
The Irish Guards and RIR served together as part of 16 Air Assault Brigade in Afghanistan.
More than 1,500 members of the Royal Irish Regiment returned from a tour of Afghanistan in April.
Three soldiers from the 1st Battalion, Royal Irish Regiment, were killed during the operation, which began last September.
Ranger Aaron McCormick, 22, from Macosquin in County Londonderry was killed by an improvised explosive device (IED) in November last year.
Ranger David Dalzell, 20, from Bangor was shot in February. The exact circumstances of his death have not yet been confirmed.
Lance Corporal Stephen McKee, 27, from Banbridge, was killed by an IED in March.‪