GCSE coursework changes divide NI teachers, survey says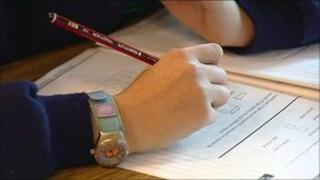 Many teachers in Northern Ireland are unhappy with some recent changes to GCSE exams, according to a new survey.
GCSE coursework is now done in school, following complaints that pupils were getting too much help to complete it at home.
Exam regulators comissioned a report into the new system.
It found teachers were divided over the changes, with some saying it was difficult to get classroom space or computers for pupils to do the work.
Nine GCSE subjects were looked at as part of the study. Teachers in French and German reported most problems while English and Business Studies had fewest.
While reaction to the coursework changes was generally positive, 41% of teachers said they had proved difficult to implement.
Many complained they had poor guidance on how to deal with students who missed coursework sessions or who were entitled to get extra time in exams.
However, 45% of teachers surveyed felt the changes had been easy to bring in.
The Northern Ireland exams body, CCEA, was one of the organisations which commissioned the survey.