Six rescued from Irish fishing boat Amy Jane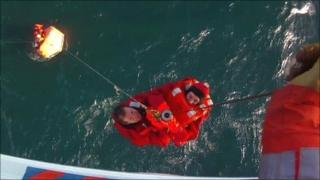 Rescue services from Northern Ireland and the Republic have been involved in air lifting six people from a fishing boat off the coast of County Donegal.
The Amy Jane, which is registered in the Irish Republic, began taking in water about 13 miles (20km) off Malin Head on Friday morning.
The ship was evacuated and the six crew members took to life rafts.
They were taken by helicopter to Altnagelvin hospital in Londonderry where they were treated and discharged.
Belfast Coastguard received a mayday call at about 09:45 BST that the boat was taking in water and sinking.
Working alongside Malin Head Coastguard, who had direct communications with the life raft, they initiated a search and rescue mission to rescue the men.
The six crew members were dressed in survival suits and equipped with emergency beacons and a hand-held radio.
Steve Carson from Belfast Coastguard, said the fact the men had had sea survival training and were properly equipped had been key to the successful rescue.
The Irish Coastguard helicopter based at Sligo was requested as was the Coastguard Helicopter based at Stornoway.
Aiden Thompson, the winch operator of the rescue helicopter described it as a "textbook rescue".
"Once we got on scene we asked the life raft to send up some flares and when we spotted the life raft there were six men on board, and thankfully everybody was safe and well," he said.
"They were wearing all their immersion gear, everything they are supposed to use, they followed their drills meticulously and thankfully everything worked out fine for everyone on board."
The RNLI lifeboats from Portrush and Lough Swilly were also involved.
Coleraine Coastguard rescue team were at City of Derry airport to receive the survivors.