Engineering firm put into administration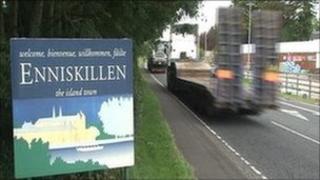 A major civil engineering firm based in County Tyrone has been placed into administration but is likely to survive.
PT McWilliams employs about 160 staff.
The administrators say they are seeking to reach a deal with the Omagh firm's creditors which would see them accepting less than the full amount they are owed.
This would allow it to continue in business and retain most of its staff. The firm is still trading as normal.
In September a consortium of which PT McWilliams is part was awarded the contract to build the new Enniskillen link road.
The administrators, from financial consultancy BDO, said they believe the firm is likely to be profitable in the future.
However, they added that due to the lack of working capital, the company cannot survive to generate these profits without the protection of an administration order.
'No disruption'
They have sent proposals to all creditors calling a meeting for 24 October 2011 at which approval for a Company Voluntary Arrangement (CVA) will be sought.
A CVA is a deal which involves repaying creditors over a set period of time with some debts being written off.
BDO say they have already spoken to a number of key stakeholders who have indicated their support for the CVA.
Shay Bannon, BDO business restructuring partner, said: "The business has suffered due to difficult economic conditions and liquidity issues caused by disputes on contracts and bad debts.
"PT McWilliams has an excellent reputation and a highly skilled and motivated workforce. We are confident that the CVA will be approved by the creditors."
Martin McWilliams, managing director of PT McWilliams, said "This has been a difficult time for the company, but we are heartened by the many expressions of support we have received in recent days.
"We wish to reassure our clients that they will see no disruption to their contracts."
He also acknowledged the support of the firm's workforce and suppliers.