Irish rugby fans prepare for an early match start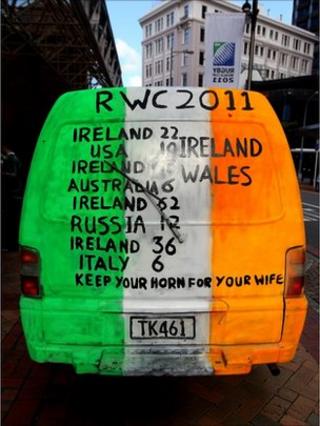 A Saturday lie-in is a luxury that many Irish rugby fans will have to forgo this weekend if they wish to see Ireland's crucial World Cup quarter final game against Wales.
With the tournament being held on the other side of the world its hardly been ideal for supporters wanting to soak up the atmosphere.
The game in Wellington has a 06:00 BST start time.
While many fans may chose to watch the game from the comfort of their own home, some pubs and clubs will open their doors for those wanting a more communal setting to soak up the atmosphere.
The Botanic Inn in Belfast is one of them.
Its doors will open at 05:45 BST on Saturday.
Terry Kavanagh, is the assistant general manager of the Botanic Inns pub chain which owns the bar.
He said the 'Bot' had had a lot of inquiries.
"We already know we have about 40 people with confirmed bookings and we've had inquiries from about 80 other people who are over from Australia because there's a big Aussie rules competition in town and people from Wales, etc, and they're all coming here as well for their breakfast," he said.
Alcohol-free
"We'll have Ireland's Call going over the speakers just to get any cobwebs that are in anybody's brains that morning wiped out."
Northern Ireland's licensing laws mean that the strongest tipple for sale in the pubs on Saturday morning will be coffee.
"I think there would be a few people who would like to have a pint with their breakfast but most of the people going to events will have their breakfast, they'll join in the craic," said Colin Neill from Pubs of Ulster.
"I think it's great, it actually proves the pub is not always about alcohol, it is only part of what we do.
"People go to the pub for fellowship and for the craic, it's a rugby country and pubs are part of this country."
Harlequins Rugby Club in south Belfast is also preparing for an early start.
'Atmosphere'
David Gillespie is chairman of the club.
"I think it's just the camaraderie and the atmosphere," he said.
"You're trying, I suppose, to get as close to being there as you can rather than sitting in isolation at home.
"I suppose the people sort of buy into it, get the volume turned up well and have a bit of craic together."
But it seems Mr Gillsepie will not be leading by example.
"No, I won't be watching the match at the club, I'll watch it at home I think."
One local rugby fan who will not be watching the match at home is Liz from Portrush, County Antrim.
She is on holiday in Istanbul and the two hour time difference means she will get extra time in bed.
Dromore Rugby Club are hosting a sleep-over on Friday night for the mini-rugby team.
Nigel Dale, the brave man in charge of the event, said about 45 kids from P4 to P7, will be staying over with their parents.
"We'll be up from eight o'clock on Friday until kick-off tomorrow.
"I think all the boys are looking forward to it and there's a few girls coming as well, so it should be good craic for us all.
"We're having lots of games, a BBQ later on, midnight feast, a bit like Harry Potter, only with rugby."
Stephen Williams is a Welsh rugby fan who has lived and worked in Northern Ireland for 17 years.
'Support'
"No, I've never had any dilemma at all," he said.
"Wales is always the team I support and when it's not Wales, it's Ireland."
He said he would stay in and watch the game in the comfort of his own home with his American wife.
"She used to be a cheerleader and therefore she used to be into American football, but after living in the UK, including Wales for many years, she has become an avid rugby fan and like me, she loves Ireland but will support Wales on this occasion."
Although born and raised in Northern Ireland, Lembit Opik formerly served as a Liberal Democrat MP in Wales.
"I'm going for Wales on Saturday, as I've spent the last 13 years living there," he said.
"Habits die hard. I've also had some fantastic times down in Cardiff watching the rugby."
He is currently on a business trip in New York.
"Of course the irony is, I'll probably end up watching and cheering for Wales in an Irish pub in some very Irish part of New York."
The winner of the game will meet either England or France in the semi final.