Sean Crummey reflects on a decade of colourful characters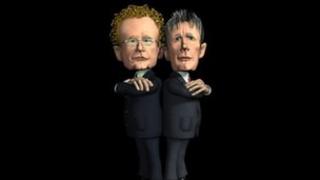 As comedy sketch show The Folks On The Hill celebrates its 10th anniversary on BBC Radio Ulster, the man who brings all those voices to life, impersonator Sean Crummey, reflects on the programme's last decade.
Well, The Folks on the Hill returns to BBC Radio Ulster on Saturday 8 October for its 17th series.
It has now spanned 10 years, and how things have changed in this part of the world and elsewhere, during that time.
Apart from the huge changes in our local political landscape, there has been a dramatic shift in popular culture too, with a plethora of so-called reality shows on television, and a seemingly insatiable appetite for news and gossip about celebrities.
The Folks On The Hill began in March 2001 with sketches involving local and international politicians, as well as TV and sports celebrities.
Favourites
The structure of the show has stayed the same, but so many of the early characters have drifted into retirement or indeed passed away.
My own personal favourites in the early days, included David Ervine, Pope John Paul II and Bill McLaren, all of whom are sadly no longer with us.
Others have, of course, simply retired or been chucked out of office, like David Trimble, Ian Paisley, Archbishop Eames, Tony Blair, Bertie Ahern and George W Bush.
This last group included some of my favourite voices to impersonate and, of course, George W was comedy gold.
With regard to local politics ,the strange thing is that we used to feature rather surreal scenarios, often depicted as unrealistic dream sequences where Sinn Fein and the DUP would actually speak to each other.
Ten years on and they're partners in government.
Over the years, I've met quite a few of our local politicians, and most of them have been quite complimentary about the show.
Insult
I think they're pleased to be included.
The worst insult would be for them not to be featured.
Some are not featured, of course, because their voices are just too tricky to nail down.
For this new series I'm struggling to nail down John O'Dowd's voice, so hours of listening to recordings of him lie ahead.
I have been ably assisted all these years by the super-talented Kathy Clugston who has provided the voices for Anne Robinson, Camilla, the Queen, Bairbre de Brun and so many others over the past decade.
And, of course, none of the series would have been possible without the unstinting support and encouragement of our producer, Owen McFadden, whose skill in editing and putting the show together has been of such vital importance.
So, here we go again with some old favourites like Gerry Kelly, Peter Robinson and Martin McGuinness, as well as new boys like Tom Elliott and Barry McElduff.
I hope you enjoy.
The Folks on the Hill at 12:00 BST on Saturday on BBC Radio Ulster.