Jennifer Cardy accused Robert Black is multiple killer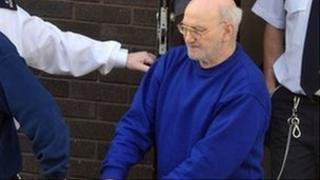 The jury in the Jennifer Cardy murder trial has heard how the accused, Robert Black, has a history of sexually assaulting and murdering children.
They heard, for the first time, how Black, 64, is serving life in prison for the murders of three children.
Black, who denies killing Jennifer, was also convicted of abducting, or trying to abduct, and sexually assault others.
Jennifer, nine, was abducted from the roadside near her home in Ballinderry, County Antrim, on 12 August, 1981.
Her body was found six days later at McKee's Dam near Hillsborough.
The first eight days of this trial were taken up with the prosecution attempting to prove that Black's job as a van driver for a London-based poster company would have had him in the area on the day in question.
On Friday, they revealed how he had been convicted of several similar crimes.
Black, who is originally from Scotland, showed no emotion as the prosecution detailed how he had been caught after abducting a six-year-old girl in Stow in the Scottish borders in 1990, nine years after Jennifer's murder.
That time the girl escaped with her life after being rescued from the back of Black's van.
Prosecuting lawyer Toby Hedworth QC explained how Black had abducted the young girl in Scotland in 1990.
He had been spotted and was caught a short time later with the girl trussed up in a sleeping bag in the back of his van.
Jennifer's parents listened from the public gallery as the lawyer revealed distressing details of how the girl had already been sexually assaulted by the time she was rescued.
Her wrists were bound and her mouth was gagged.
Initially, Black said nothing, but on the way to the police station, he said to police officers: "It was a rush of blood. I've always liked young girls.
"I just seen her and got her into the van. I tied her up because I wanted to keep her until after I'd delivered my (last) parcel to Galashiels."
He admitted sexually assaulting the child and added: "I wanted to keep her so I could take her to Blackpool or somewhere, so I could spend some time with her."
Asked what he was going to do there, he said "just let her go".
However, a medical expert said had she not been found it was debatable if she would have survived another 15 minutes.
Subsequent police inquiries put Black close to the scene of several similar unsolved abduction and murder cases, including - say the prosecution - that of Jennifer Cardy.
Horrific fantasy
Prosecuting barrister, Mr Hedworth warned the jury against simply thinking: "He's done these other crimes, he's a thoroughly bad man, we'll just convict him of this one".
He said that the prosecution would demonstrate instead that tangible similarities between Jennifer's case and the others Black has been convicted of, would make it clear they were all the work of one man.
The barrister outlined a dozen similarities.
Jennifer's parents looked on from the public gallery as the court heard how in police interviews Robert Black had graphically spelled out a horrific fantasy about sexually assaulting a child.
The prosecution said its similarity to what actually happened to Jennifer amounts to it being "a partial, or even coded, confession" by a man who cannot face head-on the magnitude of what he has done.
They highlighted nine separate areas within the fantasy which they say mirror exactly what happened to Jennifer.
The case continues.