Judge rules getaway driver shooting 'not justified'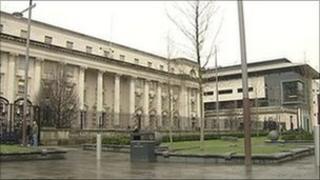 The shooting of an unarmed getaway car driver during a military operation in which four IRA men were killed was not justified, a High Court judge has ruled.
Aidan McKeever is to receive £75,000 damages following the verdict.
He sued the MoD over the operation in Clonoe, County Tyrone, almost 20 years ago.
Four IRA men were shot dead after attacking Coalisland police station.
Mr McKeever, 41, was wounded when members of a specialist undercover military unit opened fire on the men in a church car park in Clonoe in February 1992.
Mr Justice Treacy described an account given by one of the soldiers who fired at him as "utterly implausible," and said that insufficient evidence was called to successfully defend the action.
Earlier that night the terrorists had attacked Coalisland RUC station with a heavy machine gun mounted on the back of a stolen lorry without inflicting any injuries.
Four men were shot dead by the soldiers: Daniel Vincent, Kevin O'Donnell, Sean O'Farrell and Peter Clancy.
Mr McKeever had been the driver of a getaway car seen entering the car park before the armed lorry arrived, the court heard.
According to a forensic scientist his vehicle was hit by at least 15 bullets, with four soldiers having shot at him.
Mr McKeever later pleaded guilty to assisting offenders, receiving a three year suspended jail sentence.
'Shoot to kill'
He sued the MoD for assault and battery, alleging the soldiers opened fire on him when he was unarmed and not close to anyone with a weapon.
It was further claimed that he was given no warning nor an opportunity to surrender.
Lawyers for the MoD defended the action on the basis that justified force was used because the soldiers reasonably believed the IRA team intended to kill them.
Damages in the case had been set at £75,000, subject to liability.
In his judgment Mr Justice Treacy pointed out how only one of the soldiers who fired at Mr McKeever was called by the defendant, despite special measures being taken to protect their anonymity.
He said the others were no longer prepared to give evidence after this witness - Soldier A - gave an "utterly implausible" and "incredible" account.
"The idea that, as he claimed, a man who was unarmed and whose car had just been shot at and who may well have been, and probably was, already shot should have got on his knees at the bonnet of the car and presented his head and shoulders above the bonnet and adopted a firing stance is simply not credible," the judge said.
"Three highly material witness soldiers very belatedly declined to go into the witness box having previously signaled their intention to do so."
"They were aware that part of the case being made on the plaintiff's behalf was that this military operation was not, as the defendant claimed, an arrest operation but a 'shoot to kill' operation."
"No explanation was furnished for their dramatic volte-face in refusing to give evidence."
With no steps taken to compel them to testify, Mr Justice Treacy said he inferred that their evidence was likely to have been unhelpful to the MoD.
He ruled: "In light of the above I find that the shooting of the plaintiff has not been justified.
"I do not propose, in light of the overall state of the evidence, to reduce the recoverable damages."