A homecoming parade goes ahead despite security alert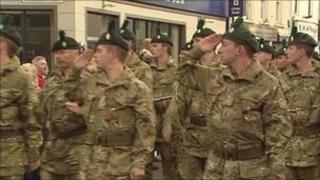 A homecoming parade to mark the return of troops went ahead in Belfast on Friday despite a bomb alert outside the venue.
Members of the Royal Irish Regiment, which lost three servicemen on their latest tour of Aghanistan, joined the Irish Guards for the parade in front of an invited audience at the King's Hall.
A security alert earlier on the Lisburn Road led to road closures nearby.
Army bomb experts declared it an elaborate hoax.
Colonel James Stopford from the Irish Guards said the event was appreciated by the troops.
"We're very lucky it has been able to go ahead because the PSNI are looking after us and permitting it to happen, so I'm very grateful to them," he said.
At the last homecoming parade in Belfast in 2008, police in riot gear kept opposing crowds apart.
The policing bill came to almost £500,000.
The Ministry of Defence turned down an initial offer from Belfast City Council for a parade through the city.
Offer declined
The council's decision in April to approve the homecoming parade was opposed by both the SDLP and Sinn Fein.
But the offer was not accepted, with the MoD citing "post-operational duties".
The Irish Guards and RIR served together as part of 16 Air Assault Brigade in Afghanistan.
More than 1,500 members of the Royal Irish Regiment returned from a tour of Afghanistan in April.
Three soldiers from the 1st Battalion, Royal Irish Regiment, were killed during the operation, which began last September.
Ranger Aaron McCormick, 22, from Macosquin in County Londonderry was killed by an improvised explosive device (IED) in November last year.
Ranger David Dalzell, 20, from Bangor was shot in February. The exact circumstances of his death have not yet been confirmed.
Lance Corporal Stephen McKee, 27, from Banbridge, was killed by an IED in March.‪