Ladbrokes bookmakers reports a pre-tax profit of £6.4m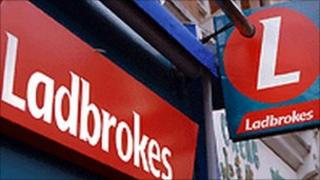 The Northern Ireland business of the Ladbrokes bookmakers chain has reported a pre-tax profit £6.4m, down slightly on 2009.
Northwest Bookmakers is the largest in Northern Ireland, holding 24% of betting shop licences.
The firm was created in 2008 when Ladbrokes bought the Eastwood's chain, merging it with its existing shops.
Turnover in 2010 was £265m, up from £262m in 2009.
The average bet placed in 2010 was £9.22, down from £9.33 the year before.
The number of staff also fell slightly over the year, down from 470 to 457.
Earlier this year, the parent company reported pre-tax profits of £207m for 2010, down 12% on 2009.
One reason for the drop was decreased earnings from "high rollers" - people who bet more than £10,000. Total earnings from these big gamblers fell 93% to £5m for the year.
However, Ladbrokes saw a 36% rise in profits at its digital business in 2010, including a large increase in betting using mobile phones.
The firm sees the future of gambling as increasingly digital, and plans to spend £50m developing its technology.
Its bet-in-play business - which takes punts on matches already in progress - also rose strongly, up 27%.