Belfast-born physician Dr John Shepherd dies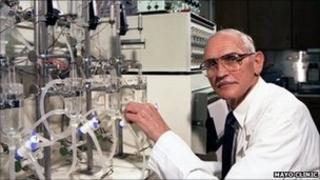 A Belfast-born physician involved in many breakthroughs in medical research spanning several decades has died.
Dr John Shepherd's discoveries have led to new ways to treat high blood pressure and have helped astronauts withstand the rigours of space travel.
The 92-year-old who had suffered from Alzheimer's disease died on Tuesday at the Mayo Clinic in Rochester, Minnesota in the United States.
He worked there since emigrating from Northern Ireland in 1957.
Dr Shepherd was born in 1919 and became one of 15 physicians in his family.
He completed his internship and residency at Belfast's Royal Victoria Hospital after graduating from Queen's University.
The physician joined the academic staff at the same university he had studied at before travelling to Minnesota's Mayo Clinic on a one year Fulbright scholarship to engage in cardiovascular research.
Although he did return to Northern Ireland, he decided to emigrate to the United States three years later.
Colleague Dr Michael Joyner, said Dr Shepherd was one of the top cardiovascular researchers of the past half-century.
"John Shepherd was a giant in cardiovascular physiology who built the academic medical centre at Mayo Clinic," he said.
Dr Joyner said his work revealed how the nervous system, and not just the kidneys, was vital to blood pressure regulation.
"He made fundamental observations about how the nerves control blood pressure, and that has led to all kinds of ideas and therapies for hypertension," Mr Joyner said.
Dr Shepherd chaired the NASA space sciences board that devised counter measures to weightlessness and also spear-headed scientific exchange with the Soviet Union at the peak of the cold war.
He is also known for being president of the American Heart Association in 1975, and has worked closely with the National Academy of Sciences for years.
His foundational work which led to the discovery of EDRF and Nitric Oxide in the 1980s was awarded the Nobel Prize.
Dr Shepherd is survived by his second wife, Marion, a son and daughter, four step-children, five grandchildren, eight step-grandchildren, and a great-grandson.