Donegal church set to become family home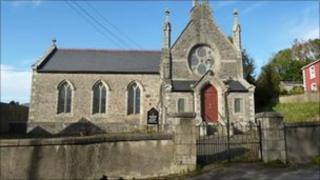 A Presbyterian church in Donegal which has been on the market for almost four years has finally been sold.
The church in Ballyshannon, which dates back to the early 1800s, was sold to a local family last week.
It was on the market for 170,000 euros, though it is not clear how much it was finally sold for.
New owner Louise McMahon told BBC Radio's Sunday Sequence she will use it as her family home and will be moving in with her husband and five children.
Before the church was placed on the market, the bodies of two ministers had to be exhumed from the churchyard and moved to new graves.
Speaking on Sunday Sequence, the minister, Reverend Stephen Richmond, said it was a very sensitive time.
"The families of the two ministers were contacted and gave their consent," he said.
"It was the only option as the church was moving out of church ownership.
Ballyshannon Presbyterian Church closed in 2007 because of falling numbers.
At the time there were only 12 families in the congregation.