Trying Times: Day 6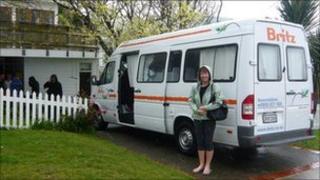 Right - Gary (my cameraman) knows this woman who knows someone else whose uncle had a springer spaniel once that he bought off a shepherd whose granny's housekeeper knew a woman who lived in Wellington.
That's a close enough connection we thought.
Must be worth a shout for some accommodation - the motor parks were booked and we weren't shelling out 500 quid for one night in a bed-sit.
Contact was made - a tentative phone call - the good news was that Gail grew up in Downpatrick.
Result.
After an excruciating second gear thrash up the hill out of the city centre, we arrived in the suburb of Karori.
We rolled up slowly to allow the blue smoke to clear, skulked in the van before loitering in the driveway under a tree.
"You go in first, no you do it. I can't. Why not? Just cause."
Fifteen minutes later we plucked up the courage and dandered round the back - four Kiwi teenagers greeted us: "Alright bru. Bout ye."
Everyone looked confused. But we got there... The lads made us feel at home, ended up making us a bru (brew) while we lashed together the day's Newsline 18.30 epic.
Gail came home about midnight, a relief because let's be fair, at this point we'd landed at a random house and were sitting around chatting to a bunch of youths.
At least now a responsible, sensible adult was here to look after us all. Not quite!
Reminiscing
Gail quickly took over the conversation, in a good way.
She reminisced about good times back in Norn Iron and didn't seem convinced that we were working, let alone working for the BBC.
We showed her the blog. I don't think that helped!
Nonetheless after a lovely night of Kiwi/culchi relations it was back to the beast for a spot of work and another freeze fest under the spit-through duvet.
A night in the van in someone's driveway made the inhospitable shell seem a little more homely.
We were greeted first thing with fresh orange juice and coffee - the tastebuds couldn't cope.
Six rounds of toast later and a quick de-silt in the shower and it was time to hit the road for the match, but not before Dan and a handful of his mates who'd stayed the night treated us to an inspiring living room Haka.
I'll be honest, they took a little bit of persuading.
Apparently they weren't completely sure of the lyrics (their term not mine) but we insisted they gave it a rip. And fair play they went for it.
With the juices flowing, it was off to the team hotel where the Irish fans were there in force to give the men in green the mother of all send-offs!
The singing rang out around the foyer of the Intercontinental Hotel in Wellington.
"We all dream of a team of Tommy Bowe's, a team of Tommy Bowe's, a team of Tommy Bowe's, we all dream of a team of Tommy Bowe's (to the tune of yellow submarine), number one is Tommy Bowe, number two is Tommy Bowe, number three is Tommy Bowe," and so on.
Bemused
The strangest thing was that Tommy Bowe's mum and dad were there and they weren't sure what to do - it's catchy but they couldn't really join in!
Paul, Tommy's dad, looked bemused by the whole thing. The fans had taken over.
People were trying to check in, or quietly chat to the concierge, while random punters with comedy leprechaun ginger beards were high-fiving the staff at the front desk.
It was pandemonium and it was outstanding.
They sang for the guts of an hour and every time one of the players passed the corridor on the first floor a roar would erupt.
At 16:15pm, an hour and three-quarters before kick-off the team emerged and walked down the central staircase into the cauldron.
Steely-eyed they made their way through the throng - the crowd swamped them all the way to the bus and off in to the distance towards the cake tin (Wellington Regional Stadium - called the cake tin because it looks like a big cake tin. I'd love a victoria sponge aah.)
Anyway, so three hours passed and, well the less said about that the better.
We made our way wearily back from the game late on to be greeted by Gail in full flow.
She was hosting a dinner party of some description and greeted us with a sympathetic hug.
There was a little sniggering about the result from some of the guests, the huffy faces quickly shut that up!
But there was good news to come.
Dan (Gail's eldest son) was staying somewhere else.
We were offered a room - haaaaaaalllellllujah.
A full-sized single bed that I could straighten my legs in.
It was no contest - the van would be on her own tonight.
Get some rest love - you've a long day tomorrow!!