Irish Guards homecoming march in Newtownards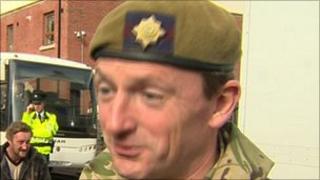 Hundreds of people lined the streets of Newtownards on Saturday to welcome home the Irish Guards after their tour of Afghanistan.
The soldiers, from 16 Air Assault Brigade, marched through the town after a service at St Mark's Church before attending a civic reception.
The homecoming follows Friday's parade and presentation at the Balmoral Showgrounds in Belfast.
Lt Col Christopher Ghika said the reception was "overwhelming".
"I think it has been a great thing we have been looking forward to, wonderful," he said.
"We started with a church service in St Mark's then we marched round the town.
"It's been a busy week, but an amazing uplifting week, and the welcome we have received everywhere has done away from any sort of tiredness.
"The tour of Afghanistan was clearly very demanding, and really tested people emotionally and physically, but I think knowing that we have something like this at the end of our tour is something to aim for."