Sligo helicopter used to help rescue walker from Cuilcagh Mountain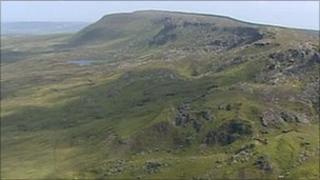 A coastguard helicopter from Sligo was called to help rescue a mountain walker in Fermanagh on Saturday.
The alarm was raised after a 45-year-old man experienced chest pains while taking part in a walking festival on Cuilcagh Mountain.
Poor visibility meant a rescue team had to carry him part of the way down the mountain.
Keith Thompson from the North West Mountain Rescue team said it was a "fairly challenging" operation.
"We were out with the team training when we had a report of a casualty, a man with chest pains about two-thirds up the mountain," he said.
"The weather was pretty atrocious, very wet, bit of wind and very low cloud base, so we weren't sure whether the helicopter would get in or not.
"The casualty was initially quite panicky, and was in severe distress.
"We treated him with oxygen, got him settled before we actually put him onto the stretcher and carried him down.
"We were planning to take him by road and ambulance if the helicopter couldn't get in, but thankfully they got to us."