Time not right for Royal Family meeting: Sinn Fein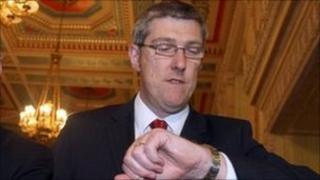 Circumstances are not yet right for a Sinn Fein deputy first minister to meet the Queen, the acting deputy first minister has said.
John O'Dowd's comments come after Martin McGuinness said that if he is elected as Irish president, he would be prepared to meet the Queen.
Mr O'Dowd is standing in for Mr McGuinness while the presidential campaign continues.
He told the BBC's Inside Politics that "the situation here is different".
"It would depend on the circumstances and what events led up to such a meeting," the acting deputy first minister said.
"I don't believe the circumstances, as they are now, are right to do that.
"There are a number of issues which need to be resolved before such a scenario would arise, including from a republican point of view, we were meeting a family who would claim to be our heads of state.
"Republicans don't accept that."