St Columb's College pupil, 13, stabbed by another student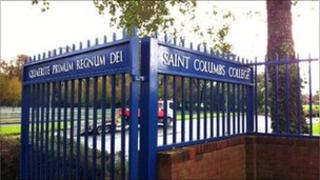 Police have confirmed that a 13-year-old boy has been stabbed by another pupil at St Columb's College in Londonderry.
The PSNI received a report around 17:50 BST on Friday but the incident happened earlier in the day.
It is understood the injured boy was attacked by a 12-year-old boy using a scalpel. He was treated in hospital for a stomach wound but later released.
The 12-year-old was arrested and released pending reports.
In a statement, a spokesperson for St Columb's College said: "I can confirm that there was an incident in the ground of the school at lunchtime on Friday 7 October during which a pupil sustained an injury requiring medical attention.
"There's an ongoing investigation which at this time prevents us from making further comment."
The school, which is located on the Buncrana Road, was named after an Irish missionary monk who founded a monastery in the area.