Police officer 'tried to seize' CCTV footage from Portadown shop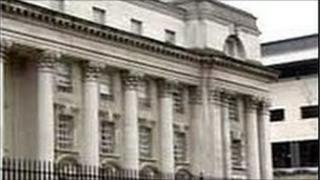 A police officer allegedly tried to seize CCTV footage from a mobile phone shop in a bid to stop his ex-partner finding out he had sent her a series of texts, the High Court has heard.
He is accused of posing as part of a team investigating her complaint so that he could obtain a hard drive from the store in Portadown.
The officer has more than 20 years service but cannot be identified.
A judge heard his actions were "a moment of madness".
He is facing a charge of attempting to pervert the course of justice.
However, his legal team are seeking to judicially review the chief constable's failure to delay internal disciplinary proceedings until after the criminal case is finished.
The police officer's barrister Peter Girvan has argued that any potential self-incrimination could threaten his client's right to a fair trial under European law.
But Peter Coll, appearing for the PSNI, rejected submissions that there was any threat of prejudice.
He set out statements from the officer, who is currently suspended on full pay, which refer to how the text messages to his ex-partner were trying to "get the truth out of her".
The officer was said to have stated: "I suppose I was playing mind games and I'm deeply ashamed of that."
It is alleged that after his ex-partner reported the incident to police he went to the mobile phone store where the SIM card was purchased and posed as part of the investigation team.
According to the case against him he tried to take CCTV recordings and a hard drive from the shop at the Meadows Shopping Centre.
In interviews the officer was alleged to have stated that his motivation was to stop his ex-partner getting hurt.
'Moment of madness'
Mr Coll told the court: "The mainstay of the PSNI position is there is no actual prejudice to this man because he has already made the factual admissions that he has."
He acknowledged that the officer may attempt to prove he is not guilty of the charge due to circumstances such as the state of his mind at the time.
"He was thinking of it on the basis of wanting to protect her from finding out on this moment of madness that it was actually him who sent these texts," Mr Coll added.
Mr Justice Treacy had previously granted an emergency, temporary injunction to stop a disciplinary hearing from going ahead.
But he said on Monday that he had not been aware of the alleged admissions.
"There's a completely different picture starting to emerge," he said.
The judge fully accepted that no attempt had been made to withhold information from the court.
However, he adjourned the case until later this month to allow the PSNI to file a further affidavit setting out its position.
Mr Justice Treacy said: "These are important matters which may have a bearing on whether or not leave (to seek a judicial review) is ultimately granted.
"I still have an entirely open mind."