US citizen calls for NI civil service to update its employment rules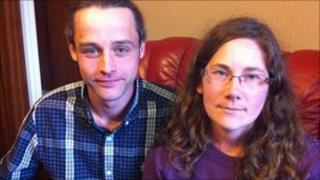 An American woman who was refused a job in the NI civil service because of her nationality has called for its employment rules to be updated.
Lori Hartman is married to a NI man and has lived here for eight years.
She was employed by a recruitment agency to do horticultural work for the department of agriculture.
When she recently applied for a post directly with the department, she was told she was ineligible because she was an American.
Mrs Hartman got her degree in horticulture in the US and then moved to the UK to get more work experience.
"While doing work experience I met my husband and he's from Northern Ireland, so after work experience, we moved here, got married and have lived here ever since," she said.
Skills
"During that time, which has been my entire working life, I have had a range of jobs in horticulture, from being a gardener for a council to co-ordinating an education programme at a forest park."
She thought she would be able to put all her skills to "good use" when she applied for the job with the department of agriculture.
"I went through the entire recruitment process, even up to having pre-employment checks," she said.
"I then received a letter to say that I actually wasn't eligible after all because my nationality did not meet their requirements.
"For about nine months now, I have been doing the job that I initially applied for through a recruitment agency, so I am being paid by the recruitment agency, but the recruitment agency is being paid by the NI civil service and so, in a round about way, they already are paying me for this job, just not directly."
After doing some research, she discovered that anyone who is not from a Commonwealth or European Economic Area (EEA) country, is not eligible to apply for jobs in the Northern Ireland civil service.
Change
Mrs Hartman said: "That's a large number of people who have valid degrees and a lot of information to share with the Northern Ireland public."
She sent a letter of complaint to the Finance Minister Sammy Wilson who told her that there is "a general statutory prohibition on the employment of aliens in the civil service, under the Aliens Restriction (Amendment) Act 1919.
She said it was time for the legislation to be changed.
"It is definitely out of date, and I actually think we have moved on quite a bit from that time," she said.
"It's a massive stress. As a US citizen, I don't get benefits - to be honest, I don't want to get benefits - but it just puts extra pressure there, knowing I have to be in work.
"I have been out of work for one month the entire time I've lived here and that was a very, very difficult month and I don't want to go back to that point."