Will Northern Ireland ever be able to vote for the Irish President?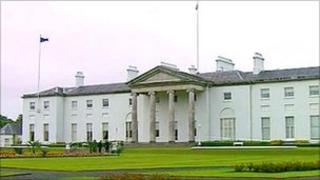 If it wasn't for the constant traffic it would be easy to describe the neighbouring border villages of Belcoo and Blacklion as sleepy.
Separated by a small bridge and situated between Upper and Lower Lough MacNean, at the foot the Cuilcagh mountain, the Fermanagh and Cavan communities have a very close relationship.
The majority of people in Belcoo in Northern Ireland describe themselves as Irish and hold Irish passports but they have no say in who the country's next president will be - unlike their counterparts in Blacklion in the Republic who will soon decide on who is President McAleese's successor.
In the Republic's general election a few months ago Fine Gael, the dominant party in the coalition government with Labour, proposed giving Northern Ireland people a say in future presidential elections, but that suggestion has yet to be acted upon.
Campaigning in Sligo town, Martin McGuinness said he passionately believes that the president of Ireland should be elected by all the eligible voters on the island.
"Isn't it disgraceful that someone like myself, who is standing in this election, like Mary McAleeese before me, can't vote for ourselves?", he said.
That's not a view shared by the Ulster Unionist leader, Tom Elliot.
He said that nationalists in Northern Ireland have to accept the political reality of a divided island adding that : "The Irish President does not represent the people of Northern Ireland.
"We have our own monarchy and Queen. That's life. And we have to go on and accept those issues as they are," he said.
Changing consitution
While the Fine Gael - Labour coalition accepts the political reality of a divided island, it is prepared to look at future Presidential voting rights for Northern Ireland people.
The issue is set to be discussed at a convention on changing the constitution that is expected to start in a few months' time and report a year later.
Brian Hayes, Fine Gael's junior finance minister, said the convention "will be looking carefully at the proposal and seeing whether it is logistically possible, and seeing whether there is a broad consensus for it. But we have an open view and that is the view that the taoiseach has expressed recently in the Dail."
Those logistical problems include how to guard against potential massive fraud in what would have to be a Northern Ireland postal vote.
And there is also the question about whether people who do not pay taxes towards the upkeep of the office of President should have a say in choosing him or her.
Shades of the American War of Independence: the Americans wanted representation for the taxes they paid. But what Northern Ireland nationalists want is representation, albeit symbolic, without taxation.
The Irish Independent writer, Sam Smyth, who's originally from Belfast, is sceptical that it will ever come to pass.
"A constitutional convention sounds to me a very grand way of saying 'form a committee, park it and we'll look into it'. And I think you may well find that other more pressing events take precedence," he said.
Colin Harvey, the head of Queen's University School of Law, hopes the Republic's coalition will face down the sceptics and cynics. He believes Northern Ireland voters should have a say in future presidential contests.
But with the centenary of Easter 1916 and other important historic events just around the corner, he said the presidential debate should be placed more in the context of the historic debate in nationalism between violent republicanism and parliamentary politics.
He said: "Constitutionalism won. In a decade of commemorations coming up I think it's absolutely incumbent on the Irish government and all people on this island to re-enforce that message."
With the sun soon to set on the McAleese presidency, it is clear that if the political will is there the practical problems of giving Northern Ireland presidential voting rights can almost certainly be overcome.
In about 18 months' time we will know whether the political will is there.