Smithwick Tribunal to get six-month extension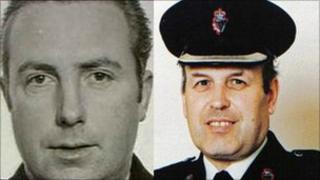 The Irish government is expected to sign off on a six-month extension to the Smithwick Tribunal.
The tribunal is investigating whether there was Irish police collusion in the murder of two senior RUC officers in March 1989.
It had been given a deadline of 30 November to complete its investigation.
The chairman of the tribunal, Judge Peter Smithwick, has written to Irish Justice Minister Alan Shatter requesting an extension.
He has done so on the grounds the tribunal would finish hearing from witnesses in the third week of November and that a number of new and intervening developments had emerged that required further investigation.
A spokesperson for Mr Shatter has confirmed that the minister has seen the letter and said in the circumstances he believed an extension was justified.
He is expected to get approval for the new completion date of 31 May at the Irish government's cabinet meeting on Tuesday.
Chief Supt Harry Breen and Supt Bob Buchanan were killed in an IRA ambush in South Armagh shortly after leaving a meeting in Dundalk Garda Station on March 20 1989.