Men arrested in Keady, south Armagh, 'were going to bury guns'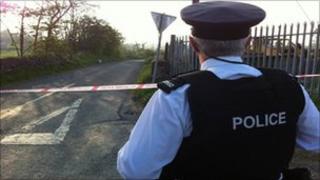 Three men stopped with rifles and handguns in a car in south Armagh in April said they were going to bury the weapons, the High Court has been told.
Two of them denied any intention to use the guns, while a third insisted he had no links to either the Real IRA or other outlawed groups, a judge heard.
They are each charged with possession of firearms and possession of articles for use in terrorism.
The trio, who were arrested after a car was stopped in Keady, were denied bail.
They are Brian Sheridan, 34, of Avonmore, Blackwatertown; Brian Cavlan, 35, from Circular Road, Dungannon; and Dominic Dynes, 39, of Castleblaney, County Monaghan.
Opposing bail applications by all three accused, a prosecution barrister said an AKM assault rifle was found in the boot of the Citroen Xantia being driven by Mr Dynes.
Two bolt-action rifles were allegedly discovered wrapped in a bed sheet and a silver Colt 45 pistol inside a sports bag.
Empty magazines and 95 rounds of ammunition were also seized, along with a sack containing soil.
A loaded Colt revolver was said to have been found inside the car, along with marigold gloves and a wooden spade.
According to the prosecution the vehicle was stopped close to a hide in the area.
The court heard that Mr Dynes said in a statement that he had been told to bury the weapons.
He said he had not intended to use them at any time to shoot or kill anyone, carry out any robbery or to stage a "show of strength".
When Mr Cavlan was charged he also stated that he was moving the weapons and ammunition found in the Citroen for the sole purpose of burying them.
Sheridan issued a prepared statement stating: "I'm not a member of the Real Irish Republican Army or other proscribed organisation and I deny any allegations of the same."
It was alleged that a forensic connection has been established between the soil, the spade and the hide.