Jennifer Cardy murder trial hears pathologist evidence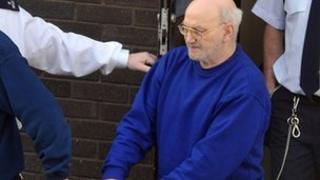 Northern Ireland's former state pathologist has told Belfast Crown Court he believes murder victim Jennifer Cardy died from drowning.
Jennifer, nine, was abducted from the roadside near her home in Ballinderry, County Antrim, on 12 August, 1981.
Her body was found in a dam days later. Convicted child killer Robert Black, 64, denies the murder.
Professor Thomas Marshall, who carried out the autopsy, said he had found no evidence of a sexual assault.
"I did think about it and came to the conclusion there was no evidence of sexual activity," he said.
He also said that while there were signs of neck compression "I've always been certain that she died from drowning".
However, defence counsel David Spens QC asked Prof Marshall if he was aware that Dr Nathaniel Cary, who reviewed the case in more recent years, found the cause of death to be strangulation and that there was evidence of a sexual assault.
Prof Marshall said he knew of Dr Cary's views but that he stood by his 1981 findings.
Dr Cary is due to take the stand on Tuesday.
Watch stopped
Earlier, the jury heard that the child's watch was stopped four hours after her mother had set it and wound it on the day she went missing.
Dr Richard Adams, the former head of the NI Forensic Laboratories, said he believed the watch would have stopped minutes after entering the water.
Mr Adams testified about going to McKee's Dam after Jennifer was found six days after she went missing.
He said the child's watch was stopped at 5.40pm. Jennifer's mother had previously said she had set and wound the watch at 1.40pm when the nine-year-old was leaving to visit a friend on her bike.
Mr Adams said there were no signs of a struggle on the body, although there were several buttons missing from Jennifer's cardigan and some blood on her clothing.
The trial also heard from Dr David Scaysbrook, who used to work with the Metropolitan Police and the Home Office.
He said there were differences in how forensic evidence was gathered in Northern Ireland compared to England and Wales.
He said standards in Northern Ireland were not what you would expect now or even back in 1981.
Asked if this could have been because the police and forensic services could have had their hands full due to the Troubles he said that was a reasonable suggestion.